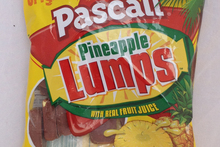 From pavlova to Phar Lap, Australians have a habit of claiming Kiwi cultural cornerstones as their own.
Their latest attempt came on Wednesday when Channel 7's Sunrise breakfast show claimed Pineapple Lumps as an "Aussie delicacy in Queensland". They were, in fact, invented in Oamaru.
The unthinkable happened during an interview with touring UK teen band One Direction.
Sunrise had the band members taste different foods, including Vegemite and Pineapple Lumps.
Rainbow Confectionary managing director Ray White confirmed that, though the chewy yellow sweets go by several names - chunks, pieces, bricks and lumps - it was most definitely Kiwi, invented by Charles Diver in Oamaru in the 1950s.
The Australian blunder quickly caught the attention of New Zealand fans of One Direction, who took to Twitter to set the band members straight.
Brittany, tweeting directly to band member Zayn Malik, said: "@zaynmalik PINEAPPLE LUMPS ARE FROM NZ!!!!!!!!!!!!... Oamaru is in NZ :D"
An account called "New Zealand One Direction Fans" tweeted that the origin of the recipe can be traced to Charles Diver, the confectionary chef for Regina in Oamaru in the 1950s.
Leyah Brunton and Crystal Bedford, both 13, of Oamaru, suggested the band stop at Oamaru's Rainbow factory shop to try the real deal when they came to New Zealand next week.
- Oamaru Mail
Give us a call
Chat to us on Google+chat Hangouts